$29.99
NZD
Category: Hardback Books
A gorgeous lift-the-flap counting game that pairs parent animals with their babies, from the bestselling author of Room on the Broom. From a bat and its pup, to a frog and its twelve tadpoles, young readers will delight in counting each creature's babies and learning unusual scientific names for young animals. With rhyming text, lift-the-flaps and peekaboo holes, and a surprise search-and-find element, this is a read-aloud delight and preschool must-have. ...Show more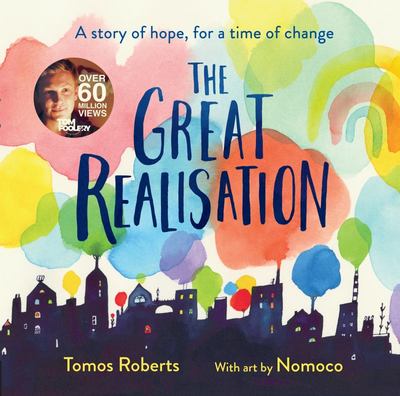 $24.99
NZD
Category: Hardback Books
A post-pandemic bedtime tale that has captured the hearts of millions. First performed in response to the Coronavirus pandemic, Tomos Roberts' inspiring poem, with its message of hope and resilience, has been viewed more than 60 million times and translated into over 20 languages worldwide. From simple acts of kindness, to the creativity within us all, The Great Realisation is a celebration of the many things that have brought us together at a time of crisis. It captures, with magical resonance, the thoughts and feelings of millions worldwide as we adapt to a new way of life, cast aside old habits and reflect on what truly matters to us. It is a story for all readers, young or old, who dare to dream of a fairer, kinder, more loving world. ...Show more
$29.99
NZD
Category: Hardback Books
A spectacular new title from world-renowned artist Oliver Jeffers, creator of the million-copy selling, global phenomenon Here We Are! What shall we build, you and I? I'll build your future and you'll build mine. We'll build a watch to keep our time. A father and daughter set about laying the foundation s for their life together. Using their own special tools, they get to work; building memories to cherish, a home to keep them safe and love to keep them warm. From renowned, internationally bestselling picture-book creator and visual artist, Oliver Jeffers, comes this rare and enduring story about a parent's boundless love, life's endless opportunities and all we need to build a together future. ...Show more
$37.99
NZD
Category: Hardback Books
An extraordinary pop-up book that reveals the secrets of the most famous fairy-tale villains--the giant, the wolf and the witch--with interactive flaps, a twist on well-known tales, and personality cards for each villain. Lift the flaps to see the diabolical thoughts inside the villains' heads, what hid es beneath their disguises, or the victims of their last meals (now comfortably settled inside their stomachs ). Read all about each villain on their personality card, which shows strengths and weaknesses, pastimes, physical characteristics, their best meal and--of course--their favorite books. And if the wolf bites your fingers while you're reading, you can always pull his tail... ...Show more
$32.99
NZD
Category: Hardback Books
Dot the hospital dog is everyone's favourite visitor in this story of bravery and friendship from Julia Donaldson and Sara Ogilvie, creators of the bestselling picture book, The Detective Dog. Here is a dog, a Dalmatian called Dot, Is she quite ordinary? NO, SHE'S NOT! After their breakfast and a sw im in the sea, Dot and her owner Rose jump on the bus to the hospital. Dot loves visiting the children of Wallaby Ward and they're always pleased to see her too. From a crying baby to a bored teenager - a pat, a stroke and a cuddle with Dot cheers everyone up. But the work of the hospital dog doesn't stop there, and when one of her patients is in trouble, it's up to Dot to save the day! A fantastic rhyming story from the powerhouse creative team behind The Detective Dog, winner of the Books Are My Bag Readers' Award. ...Show more
$29.99
NZD
Category: Hardback Books
Smart is not just ticks and crosses,smart is building boats from boxes.Painting patterns, wheeling wagons,being mermaids, riding dragons … From the award-winning creators of The Underwater Fancy-dress Parade and Under the Love Umbrella comes this joyful ode to all the unique and wonderful qualities that make children who they are. Teachers' Resources are available for this title.   ...Show more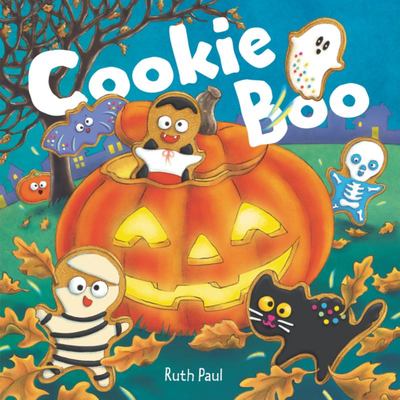 Cookie Boo
by Ruth Paul (Illustrator)
$29.99
NZD
Category: Hardback Books
This adorable story is conveyed in lilting, rollicking rhymes that zing along with minimal text per page. Its original take on a Halloween theme and its cute 'Gingerbread Man' vibe will entertain and delight young readers. (Kirkus starred review)The cookies climb out of the cookie tin and go on a Hallow een adventure in this rhythmic read-aloud Seven spooky cookies sitting in a tin, waiting for the moonlight to let the magic in ...Cookie Boo, from award-winning author-illustrator Ruth Paul, is sure to make celebrating Halloween fun When the cookies escape for a Halloween romp they will have some tricks and treats before the night is through. This foil-covered picture book is perfect for a not-so-spooky storytime. ...Show more
Dog
by Shaun Tan
$22.99
NZD
Category: Hardback Books
A beautifully poetic and gorgeously illustrated reflection on the relationship between dogs and humans. Dog is a stand-alone picture book of one of the most-loved stories from the bestselling and internationally acclaimed Tales from the Inner City by Shaun Tan, winner of the 2020 Kate Greenaway medal. Once we were strangers,legs bent the wrong way,rough voices falling to the wind …But in our hearts we wanted more than this. In our hearts, we knew there was more. 'A tour de force.' - The New York Times   ...Show more
$29.99
NZD
Category: Hardback Books
Iggy's one passion is building. His parents are proud of his fabulous creations, but are sometimes surprised by his materials. Who could forget the tower he built out of dirty diapers? When his second-grade teacher declares her dislike of architecture, Iggy faces a challenge.
$19.99
NZD
Category: Christmas Books | Series: Pig the Pug
Santa was coming! Twas bigger than big! No-one loves Christmas more than Pig. And the worlds greediest Pug will stay up all night to get his presents! Includes removable PIG THE ELF window sticker!  
$21.99
NZD
Category: NZ Picture Books
Wonky Donkey has a daughter with the same rambunctious spirit as her dad. Kids, parents and their loved ones will enjoy the hilarity and cumulative read-aloud fun. This cute little pint-sized donkey has beautiful long eyelashes, loves to listen to music, paints her hooves bright pink, sometimes has to g o pee-pee, loves to play piano, has a very cool spiky haircut . . . and sometimes smells a bit bad (like her Dad!). She's a blinky, funky, pinky . . . you know how it goes . . . dinky donkey! Wonky and Dinky become the perfect duo to get even more young children reading (and hopefully some more grandmothers, too)! ...Show more
$19.99
NZD
Category: Hardback Books
ITS BOOK WEEK! The time to dress up as your favourite character. Who goes too far? Who doesnt go far enough? And WHO will win first prize?! Find out in the wildest book week EVER!