$24.99
NZD
Category: Junior Fiction 5-9-year-olds | Series: Winnie-the-Pooh
'One day when Pooh Bear had nothing else to do, he thought he would do something, so he went round to Piglet's house to see what Piglet was doing.' This is the second classic children's story by A.A. Milne about Winnie-the-Pooh and his friends in the Hundred Acre Wood. In this volume Pooh meets the irre pressible Tigger for the first time, learns to play Poohsticks and sets a trap for a Heffalump. In this stunning edition of The House at Pooh Corner, A.A. Milne's classic characters are once again brought to life by E.H. Shepard's illustrations.Milne's classic children's stories - featuring Piglet, Eeyore, Christopher Robin and, of course, Pooh himself - are both heart-warming and funny, teaching lessons of friendship and reflecting the power of a child's imagination like no other story before or since. PWhether you're 5 or 55, Pooh is the bear for all ages.  ...Show more
$18.99
NZD
Category: Junior Fiction 5-9-year-olds | Series: Dog Man
A brand-new graphic novel series by Dav Pilkey, the internationally bestselling author and illustrator of the DOG MAN and CAPTAIN UNDERPANTS series. Welcome to the Cat Kid Comic Club, where Li'l Petey (LP), Flippy, and Molly introduce twenty-one rambunctious, funny, and talented baby frogs to the art of comic making. As the story unwinds with mishaps and hilarity, readers get to see the progress, mistakes, and improvements that come with practice and persistence. Squid Kid and Katydid, Baby Frog Squad, Gorilla Cheese Sandwich, and Birds Flowers Tree: A Haiku Photo Comic are just some of the mini-comics that are included as stories-within-the-story, each done in a different style, utilizing humour and drama, prose and poetry, illustrated in different media including acrylics, pastels, coloured pencils, felt-tip markers, clay, hand-made cardboard sculptures, photographs, pipe cleaners, construction paper collages, and cookies. Readers of all ages will be inspired to dream up their own stories and unleash their own creativity as they dive into this pioneering graphic novel adventure from Dav Pilkey and his heartfelt, humorous, and amazing cast of characters in the Cat Kid Comic Club. ...Show more
$21.99
NZD
Category: Junior Fiction 5-9-year-olds | Series: The\Questioneers Ser.
Just in time for the 2020 election, the bestselling chapter book series continues with the newest Questioneer, Sofia Valdez Miss Lila Greer announces it's time for Grade Two to get a class pet, and she wants the kids to participate in choosing which one. After all, they will all have to share the respo nsibility of caring for it. The class narrows it down to two options: Team Turtle and Team Bird. Sofia is named Election Commissioner, in charge of overseeing a fair and honest election between the two teams. There's a class-wide campaign, complete with posters, articles, and speeches. Then it's time for the election But when the votes are counted, there's a tie, and one vote is missing. How will the class break the tie? And what happened to the vanishing vote? It's up to Sofia Valdez and the Questioneers to restore democracy   ...Show more
$16.99
NZD
Category: Junior Fiction 5-9-year-olds | Series: Fartboy
Martin Kennedy is the tidiest boy in the world's tidiest town. Martin is so neat and clean that he has never ever farted-UNTIL NOW. A freak accident dooms Martin to a dreadful destiny of baked beans and bottom blowouts. With the help of his grand fart master, can Martin learn to harness the power of his new skill and use it to save the day?   ...Show more
$24.99
NZD
Category: Junior Fiction 5-9-year-olds | Series: Winnie-the-pooh - Classic Editions
Curl up with A. A. Milne's classic book of poetry for children, When We Were Very Young. This is the first volume of rhymes written especially for children by Milne - as popular now as when they were first written. Featuring E. H. Shepard's original illustrations, this collection is a heart-warming and funny introduction to children's poetry, offering the same sense of humour, imagination and whimsy that we've come to expect from Milne's favourite books about Winnie-the-Pooh, that Bear of Very Little Brain.  ...Show more
$18.99
NZD
Category: Junior Fiction 5-9-year-olds | Series: Captain Underpants
In their fifth adventure, George and Harold accidentally create a monster! With her horrendous hairdo and two rabid robots, Wedgie Woman is well on her way to world domination, and only the Waistband Warrior can stop her. Full color. 5 1/2 x 8 5/16.
$11.99
NZD
Category: Junior Fiction 5-9-year-olds | Series: Ivy and Bean
The adventures of Ivy and Bean continue in the latest installment from series creators Annie Barrows and Sophie Blackall. In Ivy and Bean Take Care of the Babysitter, the two girls hatch a plan to prove that Bean's big sister is the world's worst babysitter. Of course plans go awry, but fun ensues! Inc ludes bonus material! - Sneak peek chapter from the next book in the Ivy + Bean series Ivy and Bean Bound to Be Bad by Annie Barrows, illustrated by Sophie Blackall ...Show more
$17.99
NZD
Category: Junior Fiction 5-9-year-olds | Series: Real Pigeons
Ever wonder why pigeons always act so weird? It's because they're out there chasing the bad guys and saving your butts! The REAL PIGEONS are a team of crime-fighters who battle baddies wherever they go! But fighting crime is hard when the city mayor has BANNED all birds, a BREAD MONSTER is on the loose and EVIL BUNNIES are taking over! Can the Real Pigeons save the day when they're the ones in trouble? No-one can protect a city like Rock, Frillback, Tumbler, Homey and Grandpouter. Crime-fighting has never been so COO! With over 200,000 books in print and legions of fans worldwide, the REAL PIGEONS series is perfect for fans of Bad Guys and Dog Man. Every book contains THREE hilarious, silly and engrossing mysteries! Shortlisted for the 2019 Readings Children's Book Prize and the 2019 & 2020 ABIA Book of the Year for Younger Children. ...Show more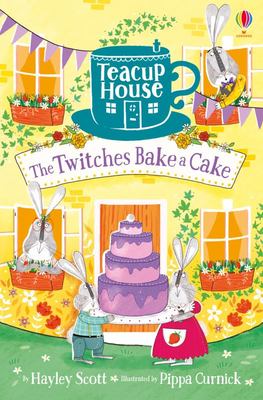 $14.99
NZD
Category: Junior Fiction 5-9-year-olds | Series: Teacup House
Stevie¿s mum is having a party, so she¿s baked a delicious cake for all the guests. Stevie¿s tiny toy rabbits, Silver and Fig Twitch, would love a taste of its yummy purple icing. How will they get their paws on some? It¿s time for an adventure outside the Teacup House!
$26.99
NZD
Category: Junior Fiction 5-9-year-olds | Series: Winnie-the-Pooh: Classic Editions
Curl up with a true children's classic by reading A.A. Milne's Winnie-the-Pooh. Winnie-the-Pooh may be a bear of very little brain, but thanks to his friends Piglet, Eeyore and, of course, Christopher Robin, he's never far from an adventure. In this story Pooh gets into a tight place, nearly catches a Woozle and heads off on an 'expotition' to the North Pole with the other animals. In this stunning edition of Winnie-the-Pooh, A.A. Milne's world-famous story is once again brought to life by E.H. Shepard's illustrations. Heart-warming and funny, Milne's masterpiece reflects the power of a child's imagination like no other story before or since. This charming edition is the ideal gift book for children of 5 to 55. ...Show more
$32.99
NZD
Category: Junior Fiction 5-9-year-olds | Series: Billie B Brown
Meet Billie B Brown … Billie can be many things. She can be bubbly, brave and brilliant And Billie is always the best friend ever! Celebrate all the best things about Billie B Brown with this gorgeous hardback collectible edition - featuring five of Billie's favourite stories in glorious colour. Volum e #1 also available. Billie's Best Volume #2 includes: ·The Grumpy Neighbour (new!) ·The Night Fright ·The Extra-special Helper ·The Soccer Star ·The Copycat Kid ...Show more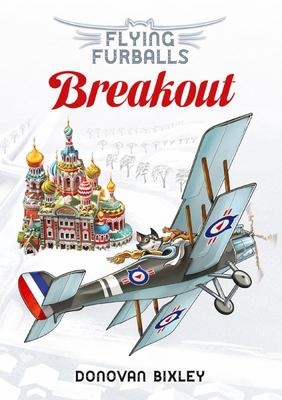 $14.99
NZD
Category: NZ Junior Fiction 5-9-year-olds | Series: Flying Furballs
Flying Furballs, a hilarious action-packed adventure series, captures the romance and excitement of the era at the dawn of aviation - set in a world of cats versus dogs. Put simply, Flying Furballs is pussycats, planes and Paris. Our hero is Claude D'Bonair, a young pilot in the cat air corp, keen to p rove his worth to the older pilots and live up to the memory of his father. Will cats and dogs ever live in harmony again? Will Claude survive with his nine lives intact? In Breakout Claude finds himself in Russia working with an old enemy to save important CAT allies. ...Show more